Anna Williams
Anna Williams was a self-taught quilter, considered to be one of the twentieth century's most significant fiber artists.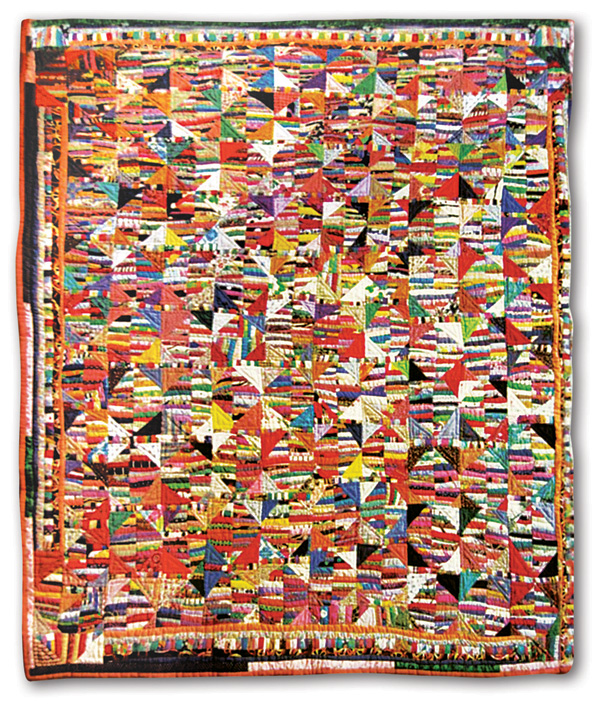 Baton Rouge native Anna Williams was a self-taught quilter considered one of the twentieth century's most significant fiber artists. Using no templates and eschewing blocking, a process of straightening and flattening fabric, Williams created freehand, improvisational designs embodying a polyrhythmic African-American aesthetic. The visual complexity of her work, which belies the craft's humble origins as well as her own quiet, unassuming nature, continues to influence scores of contemporary quilt artists.
Williams was born in East Baton Rouge Parish on a plantation owned by the Kleinpeters, a prominent family of Swiss descent who farmed sugar, cotton, and sweet potatoes. Working in the fields as a child, she learned to quilt from her mother and grandmother and used their remnants, however small, to fashion her own designs. In addition to sewing dresses for her homemade dolls, she completed her first covering, a tiny child's quilt, at the age of nine. Williams had limited formal education and eventually went to work as a domestic for several Baton Rouge families while rearing eight children of her own. Despite such obligations, she still found opportunities to pursue her craft, for example, piecing together fabric segments during her daily bus commute to and from work in various parts of the city.
In the 1970s, several women for whom Williams worked opened Fiber Five, a fabric shop born of the American Bicentennial quilting revival. Helping to clean the facilities, she frequently received fabric scraps from her employers as well as the store's regular customers. Over the next several years, Williams honed her distinct style of meticulously piecing together multitudes of small swatches into vibrant and powerful compositions. Katherine Watts, one of the store's owners and an instructor in clothing and textiles at Louisiana State University, took an interest in Williams's quilts and introduced her to internationally recognized Ohio quilt artist Nancy Crow. The association resulted in a 1990 exhibition of Williams's work at the Quilt/Surface Design Symposium. Held annually in Columbus, Ohio, the niche gathering brought Williams to the attention of a community of skilled craftspeople who found in her work a sophisticated and singular aesthetic.
Williams's process often began with the artist simply closing her eyes to envision a desired pattern. With her design in mind, she would sort through fabrics—stored in a cardboard refrigerator box kept in her bedroom—to select the desired colors and patterns. Reflective of her childhood experience in using modest fabric scraps, she trimmed any large pieces of material into many small shards before starting. The individual geometric shapes would, in turn, be paired and sewn together, whether in rectangular strip-pieced "strings" or triangular "monkey wrench" patterns. Williams initially sewed her quilts by hand but eventually began using a sewing machine, allowing her to increase her productivity and work on several coverings at once. Imperfectly realized, the artist's finished works yet reflect an awareness of formal techniques and an innate sense of color.
Following her 1990 debut, Williams's quilts were showcased in the American Quilters Society's Anna Williams: Her Quilts and Their Influence in 1995 and the Louisiana State University Textile & Costume Museum's Joyful Improvisations: The Quilts of Anna Williams in 1999. She was also included in the 2009 Tokyo International Great Quilt Festival, where one of her works was featured on the cover of the exhibition catalogue. Her quilts are in the permanent collections of the International Quilt Study Center at the University of Nebraska, Lincoln; the National Quilt Museum in Paducah, Kentucky; and the Brooklyn Museum in New York City. Such displays have introduced Williams's work to legions of contemporary quilters who cite her significant, even liberating, influence on their own artistic expressions.