Dominico Canova
Born in Italy, Dominico Canova spent many years painting frescoes in banks, churches, and private homes in New Orleans and southern Louisiana.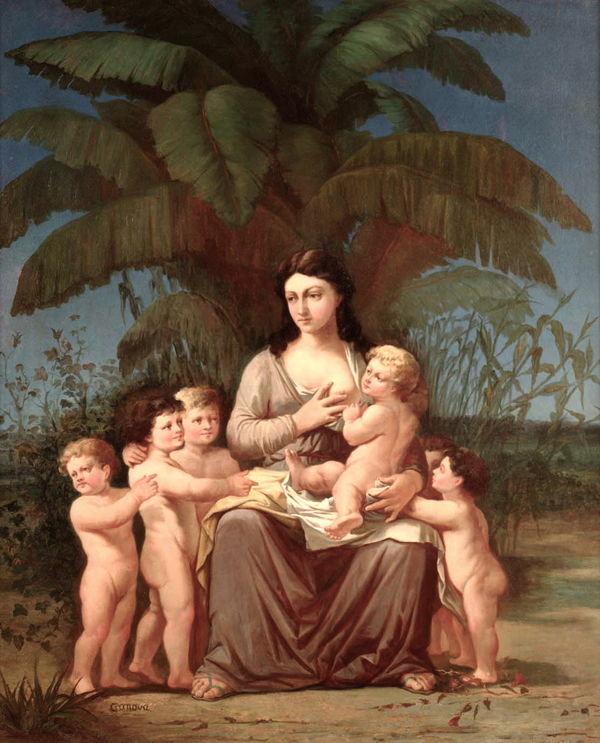 From 1840 until his death in 1868, Dominico Canova was among the best decorative and mural painters in New Orleans, working in churches, hotels, and private residences. He was also active as a drawing and painting teacher and made at least a few lithographs. Ornamental painting was Canova's forte. He painted murals for early New Orleans art collector James Robb during the early 1840s, ceiling decorations at Our Lady of the Lake Church in 1846 with fellow Italian Antoine Mondelli, the French Opera House in the early 1850s, and frescos for St. Alphonsus Church (1866). He may have painted ceiling or altar decorations for St. Louis Cathedral, but this is undocumented. Records do indicate that Canova painted murals at both Whitney (1848) and San Francisco (ca. 1850) plantations. He also painted faux wall treatments on the rear gallery and ceiling at Whitney.
Canova was born in Milan, Italy, and presumably had some artistic training. It is often claimed that he was a nephew of Italian artist Antonio Canova, but this is not confirmed. Nor is anything known of his early training. Canova emigrated to New York City in 1825, finding employment as a lithographer at the firm of Anthony Imbert. Among his earliest known works are illustrations for Cadwallader D. Colden's Memoir of the Erie Canal Celebration (1825). He accepted a position teaching drawing and painting to the sons of wealthy plantation owners at the College of Jefferson in Convent, Louisiana, remaining until 1839. In December 1838, Canova advertised his availability in New Orleans during the winter break, when he was free from his teaching duties. In 1840 he settled at a studio on 80 Royal Street, near the heart of the growing Canal Street commercial district. Canova was immediately successful. With A. Pinoli, he secured a commission to restore the decorations damaged by a fire at the St. Louis Exchange Hotel in 1841.
Teaching provided a primary means of support throughout Canova's career. He taught drawing at the Louisiana College Institution pour les Jeunes Demoiselles in 1844 and again in 1852; at De Viller's Lyceum in 1845; and at Franklin High School in 1846 and again between 1850 and 1852. In addition, he offered private lessons with Jules Lion at 1 Exchange Passage in 1848. He made at least one lithograph while in New Orleans, a political cartoon about John McDonough, in 1850.
Canova also painted a large canvas with overt political overtones in 1864. Entitled Episode in the American Civil War: Determination and courage of a Confederate prisoner at Vicksburg, it depicts, in vivid detail, the case of P. Albert Melton, an imprisoned soldier who cut off his own left hand with a hatchet rather than serve federal troops. Although likely an apocryphal story, Canova's visual narrative has been misidentified and misinterpreted over the years as a pro-slavery statement. He died in New Orleans in 1868.