Eddie Delahoussaye
Horse racing jockey Eddie Delahoussaye won five Triple Crown races and is a member of the National Museum of Racing Hall of Fame and the Louisiana Sports Hall of Fame.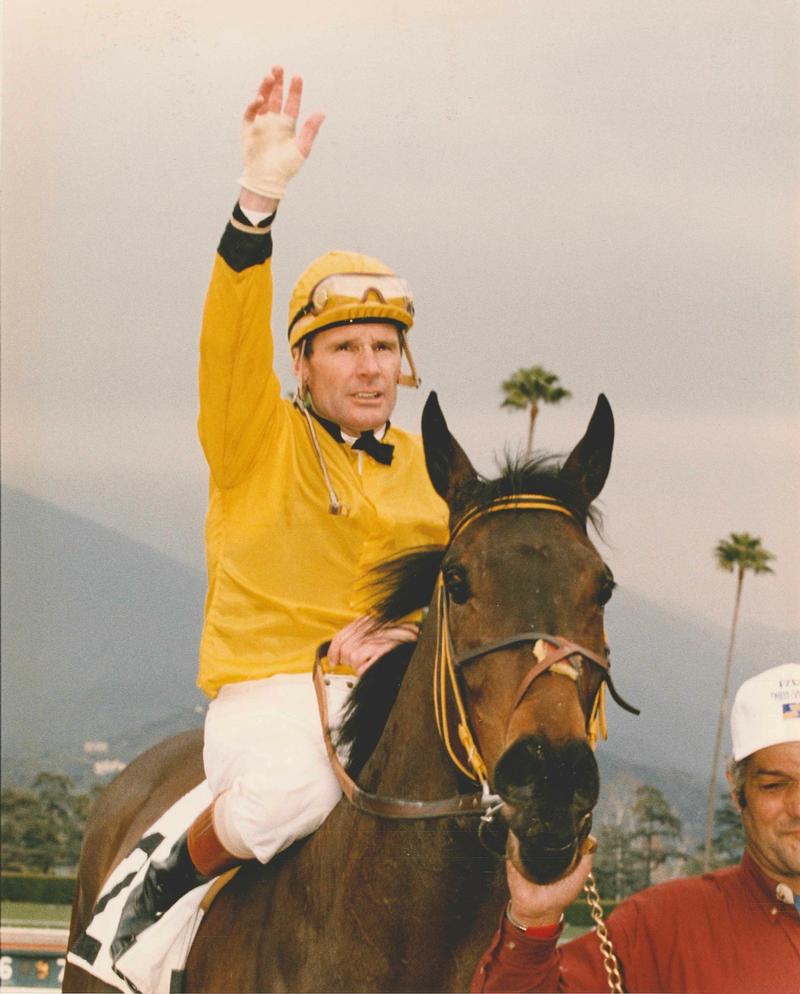 Progressing from humble beginnings on "bush" tracks in South Louisiana to the hallowed halls of the National Museum of Horse Racing Hall of Fame, Eddie Delahoussaye is a talented jockey with a rare combination of strength, stamina, and resilience who excelled in many of horse racing's biggest moments. He won five Triple Crown races, including back-to-back wins in the Kentucky Derby in 1982 and 1983. In a thirty-four-year career, he rode more than 6,300 winners.
Born in New Iberia on September 21, 1951, Edward J. "Eddie" Delahoussaye, like so many other aspiring jockeys, cut his teeth riding informal, unsanctioned quarter horse races at "bush" tracks throughout South Louisiana. At the age of seventeen, he earned his first ride at the Fair Grounds in New Orleans and six months later notched his first win, at Evangeline Downs near Lafayette. Within ten years he would be recognized as one of the top jockeys in the country, capping off the 1984 season with 384 wins.
Following a 1991 win at the All-Star Jockey Championship at Santa Anita in suburban Los Angeles, Delahoussaye decided to relocate from Louisiana to Southern California. He became a five-time winner of several major races in that state, including the Baldwin Stakes, the Santa Barbara Handicap, the Bing Crosby Handicap, and the Del Mar Derby. He was a four-time winner in the Eddie Read Handicap and the Palomar Handicap, also held in Southern California.
He has wins in more than sixty major races in his career, including five Triple Crown races and seven Breeders' Cup races. In 1981 he was aboard The Bart in the inaugural Arlington Million, losing by a nose in the final stride to John Henry, ridden by the legendary Willie Shoemaker.
Delahoussaye is only one of four jockeys to capture back-to-back wins in the Kentucky Derby with Gato del Sol in 1982 and Sunny's Halo in 1983. He was also aboard Risen Star for wins at the 1988 Preakness and Belmont Stakes. His fifth and final Triple Crown victory came in 1992 on A. P. Indy in the Belmont Stakes.
Delahoussaye's last major race was on Affluent in the John C. Mabee Handicap at the Del Mar racetrack in August 2002. He retired from racing in early 2003 as a result of serious neck and head injuries incurred in a fall at Del Mar on August 30, 2002. Delahoussaye's thirty-four-year career is ranked eleventh all-time with 6,384 victories, and his $195,881,170 in earnings currently ranks him sixth all-time. It has been reported that he had gone to the post on more than 39,200 different horses during his career.
Delahoussaye was named the US Champion Jockey by wins in 1978 and received the George Woolf Memorial Award, given to a jockey whose career has brought credit to thoroughbred racing, in 1981. He was inducted into the Fair Grounds Hall of Fame in 1991, the National Museum of Racing Hall of Fame in 1993, and the Louisiana Sports Hall of Fame in 2002.