Emanuel Sayles
Emanuel Sayles was a New Orleans traditional jazz, blues, and rhythm and blues singer, banjoist and guitarist.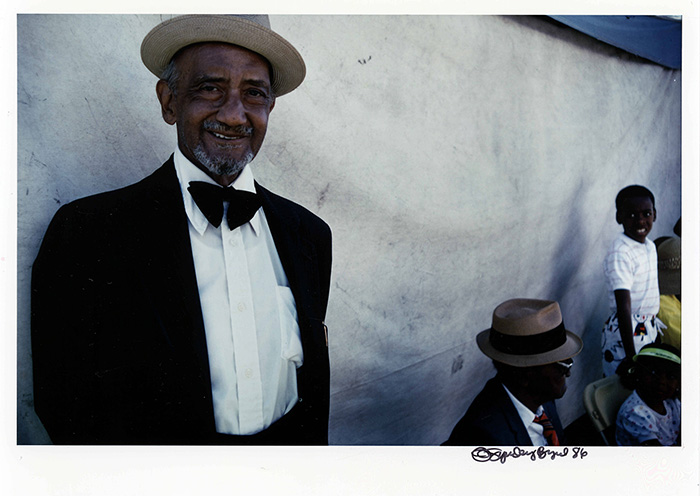 Emanuel René "Manny" Sayles was a New Orleans traditional jazz, blues, and rhythm and blues (R&B) singer, banjoist, and guitarist. From leading his own jazz band in Chicago to performing, recording, and touring with George Lewis and Punch Miller, Sayles demonstrated his multifaceted musical talents. Although he was best known for his work as an instrumentalist, Sayles delighted crowds and critics alike with his singing voice. Sayles was the subject of the 1977 documentary This Cat Can Play Anything.
Sayles was born on January 31, 1907, in Donaldsonville. The son of the well-known banjoist George Sayles, Emanuel began his musical career on violin and viola under the guidance of Dave Perkins, from whom he took lessons in 1915 after Sayles's move to New Orleans.  Sayles would soon teach himself to play banjo and guitar––the instruments upon which he would build his professional musical career.
After graduating from high school, when he was still seventeen, Sayles joined a band with Thomas Mack (trumpet) and Joe Wynn (drums) in Pensacola, Florida. After returning to New Orleans late in 1926, Sayles played with Ridgley's Tuxedo Orchestra at the Pelican Hall. The following years would see Sayles playing riverboat gigs with Fate Marable's and A. J. Piron's ensembles, as well as an occasional date with Sidney Desvigne's orchestra. Sayles was the guitarist for the Jones and Collins Astoria Hot Eight when they recorded their famous session in 1929.
In 1939 Sayles began leading his own group in Chicago while working as a sideman on guitar for others. Sayles's own band, based largely in Chicago, would continue performing publicly until 1949. At this point Sayles returned to New Orleans. There he became the banjoist in George Lewis's band in 1959, replacing Lawrence Marrero after his death. As the jazz revival expanded even further at the dawn of the 1960s, Sayles began playing with Punch Miller. He toured Japan with George Lewis's group in 1963 and 1964. After the opening of Preservation Hall in 1961, Sayles could often be found there, playing with a number of instrumental ensembles as well as singing blues, gospel, Jelly Roll Morton tunes, and spirituals.
Sayles recorded often throughout his life, including on the Nobility label and as a leader for GHB, Southland Records, Riverside Records' Living Legends series, and Atlantic's Jazz at Preservation Hall series. He recorded with many musicians, notably Peter Bocage, Kid Thomas, Earl Hines, and Louis Cottrell Jr. In 1964 Sayles played a number of tour dates with "Sweet" Emma Barrett; in 1965 he returned to Chicago to play in the house band at Bill Reinhart's famous Jazz Limited club until 1967. The year 1968 found him back at Preservation Hall, playing for cheering audiences.
Sayles died in New Orleans on October 5, 1986.