Jolie Blonde
Arguably the most famous Cajun song of all time, "Jolie Blonde" began as a folk melody in French Louisiana.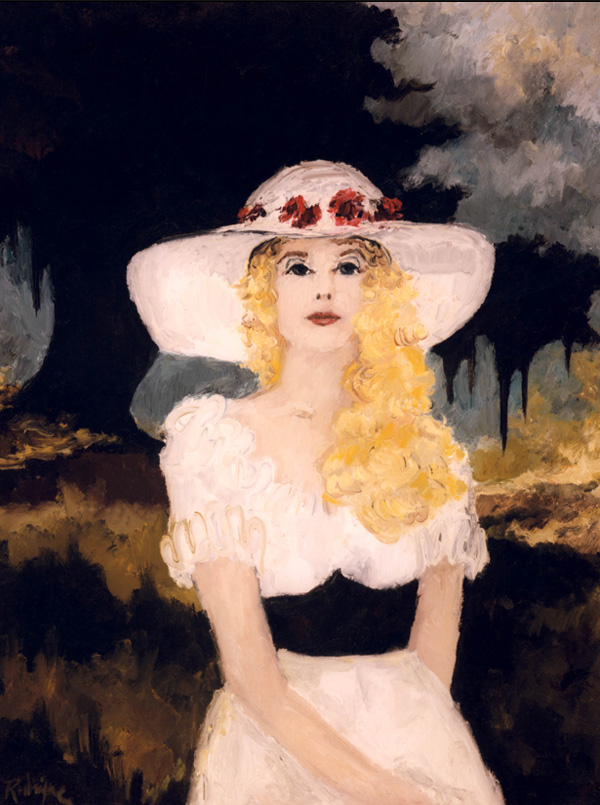 Arguably the most famous Cajun song of all time, "Jole Blon" is considered by many the "Cajun National Anthem." The waltz apparently began life as a folk melody in French Louisiana. First recorded by Cajun musicians in 1929, the song emerged as a standard within the Cajun musical canon, and, after 1946, as part of the national American songbook. The song's lyrics recount the tale of a jaded man, who is left heartbroken when his lover "ma quitter pour t'en aller…avec un autre" (left me for someone else). Though the title is often rendered in various ways—including "Jolie Blonde," "Jolie Blond," and "Jole Blon"—all refer to a pretty blonde woman, Harry Choates's 1946 recording remains the catalyst for Cajun music's integration into American popular music.
"Jole Blon" in Cajun Country
According to fiddler Wade Fruge (b. 1916), "[w]e'd play 'Jolie Blonde'…And my grandpa learned them from people before him. That makes [the song] about 200 years old." Despite the song's vague provenance, the Breaux family band—Amédé, Ophy, and Cleoma—became the first ensemble to record the song on April 18, 1929, under the title "Ma Blonde Est Parti" during a session for the Columbia record company in Atlanta, Georgia. Fiddler Leo Soileau later recorded the song in 1935 in a string band format as "La Valse de Gueydan." In 1936, the Hackberry Ramblers perpetuated the string band arrangement by issuing their own rendition, "Jolie Blond." By the time fiddle virtuoso Harry Choates decided to record yet another version of the tune, the waltz had already become part of the vernacular soundtrack to life in southern Louisiana and eastern Texas.
On March 31, 1946, Choates recorded the most famous version of "Jole Blon" backed by the Texas-based group the Swingsters at the Gold Star studios in Houston, Texas. Choates returned to Gold Star on July 17, 1946, with a different band he dubbed the Melody Boys, comprising B. D. Williams, Eddie Pursley, Abe and Joe Manuel, and Curzy "Pork Chop" Roy. The ensemble recorded both a new version of "Jole Blon" and the "Basile Waltz." But, when fledgling producer and Gold Star owner Bill Quinn decided to release the record, he designated "Basile Waltz" as the A-side and the Swingster's version of "Jole Blon," recorded two and a half months earlier, as the B-side. A Massachusetts native unfamiliar with French, Quinn rendered the French jolie blonde and Choates's surname ("Shoates") in English phonetics. And when a Houston disc jockey began playing the record's B-side, Choates's recording became a Cajun music phenomenon. On January 4, and again on March 8, 1947, "Jole Blon" reached number four on the national Billboard's "Most Played Juke Box Folk Records."
"Jole Blon" in American Popular Music
As early as the fall of 1946, non-Cajun artists began recording their own versions of "Jole Blon." Pianist Aubrey "Moon" Mullican, who performed in some of the same honky-tonks as Harry Choates, recorded three of the first English-language versions of the Cajun waltz: "New Pretty Blond (New Jole Blon)" (1946), "Jole Blon's Sister" and "Jole Blon Is Gone, Amen" (1947). Other country and western artists followed Mullican's lead. Grand Ole Opry performer Red Foley reached number one on the national charts in 1947 with his "New Jolie Blonde (New Pretty Blonde)." His colleague Roy Acuff, also of Grand Ole Opry fame, recorded another hit, "(Our Own) Jole Blon," which spent six weeks on the national Billboard charts, eventually peaking at number four.
By the 1950s, "Jole Blon" entered the realm of rock and roll. In 1956, Dallas native Charles Lee collaborated with fellow Texan Eddie Shuler, who owned and operated Goldband records in Lake Charles, Louisiana. Lee's band, the Yellow Jackets, waxed "Rock and Roll Jolie Blonde." Two years later, another Texan, rock and roll pioneer Buddy Holly, convinced his bass player, Waylon Jennings, to release "Jole Blon" as his solo debut. With Holly in the role of producer and rhythm guitarist, Waylon Jennings launched his solo career by singing in his best French in front of King Curtis's tenor saxophone and rock rhythm section. In 1972, the Flatlanders, who hailed from Buddy Holly's hometown of Lubbock, Texas, helped solidify the Cajun waltz's place within Texas's musical traditions.
Continued viability in Louisiana together with the outside validation that accompanied cover versions of "Jole Blon" helped firmly root the composition in both the Cajun and broader American repertoire. Louisiana musicians from Clifton Chenier to Rod Bernard continued to perform and record the waltz in a variety of formats. As the song entered the realm of zydeco and swamp pop, it crossed cultural, racial, and geographic boundaries. Meanwhile, music icons like Bruce Springsteen and Gary U.S. Bonds helped ensure "Jole Blon's" continued circulation beyond Louisiana.