Mahalia Jackson
Mahalia Jackson, a New Orleans native, was one of the most powerful and influential singers in the history of gospel music.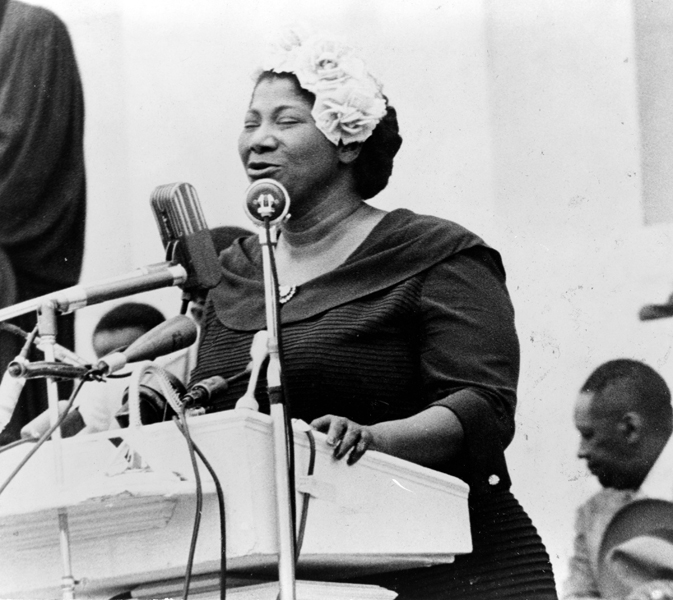 Mahalia Jackson, a New Orleans native, was one of the most powerful and influential singers in gospel music. Having recorded more than a dozen gold records, Jackson's success in the commercial world was undeniable. She also affected generations of gospel and secular singers alike, including artists such as Aretha Franklin, who worked successfully in both fields.
Born October 26, 1911, Jackson grew up in a strict, religious household, raised by her Aunt Duke in the Carrollton section of New Orleans. Gospel music did not yet exist under that name, but such religious musical forms as spirituals, as well as secular genres like the blues, influenced Jackson's folk-rooted style. While influenced by blues, Jackson, like most gospel singers, never performed such material, which some considered wicked. As she commented years later, "The Baptists still watch me like a hawk, now that I'm mixed up in show business."
Even so, Jackson acknowledged blues as an important, formative resource from early childhood: "I played [cousin] Fred's records all day—especially the blues songs of Bessie Smith. Bessie was my favorite, but I never let people know I listened to her. Mamie Smith, the other famous blues singer, had a prettier voice, but Bessie's had more soul in it. She dug right down and kept it in you. Her music haunted you even when she stopped singing. … I don't sing the blues myself. … But you've got to know what the blues meant to us then. … The Negroes all over the South kept those blues playing to give us relief from our burdens and to give us courage…" In addition, Jackson often heard traditional New Orleans jazz, which intersected with religion via jazz funerals.
As a child, Jackson sang at Plymouth Rock Baptist Church and then moved on to the junior choir at Mount Moriah Baptist Church. At age sixteen, she moved to Chicago, Illinois, and began singing professionally with a group called The Johnson Brothers out of the Greater Salem Baptist Church. The Johnson Brothers also performed plays, such as From Earth to Glory, in which Jackson costarred. Working days as a maid and a laundress, Jackson began touring the Midwest, primarily singing at churches. Some northern Black audiences were put off by her intensely emotional and identifiably southern style. As Jackson recounted in her autobiography Movin' On Up, she once took a voice lesson from a Professor Dubois, whom she described as "a great Negro tenor. … He was very proud of his career as a concert and operatic singer." Professor Dubois told Jackson, "You've got to learn to stop hollering. … The way you sing is not a credit to the Negro race. You've got to learn to sing songs so that white people can understand them." Despite such disapproval, Jackson resolutely maintained her style.
Jackson began recording for Decca Records in 1937. Among her first records was "God's Gonna Separate the Wheat from the Tares." In the early 1940s she worked with the gospel music pioneer Thomas A. Dorsey, who had started his career as a blues musician known as Georgia Tom. Jackson's breakout recording came in 1948, with the release of "Move on up a Little Higher." By the early 1950s she was a major star not only in African American circles but among white audiences as well. With success came offers to sing secular music from the likes of Louis Armstrong. Although Jackson turned him down, the two did sing gospel music together at the Newport Jazz Festival in 1971, accompanied by the Preservation Hall Jazz Band.
As Jackson's commercial success increased, record companies encouraged her to collaborate with a number of accompanists who were far afield from gospel music, including harpist Arthur "Harpo" Marx of the Marx Brothers and orchestra leader Percy Faith. This, along with Jackson's wealth and the increasing time she spent touring in Europe, led some rivals to criticize her for abandoning her gospel community roots. Ignoring her detractors, Jackson became a regular performer on the leading television programs of the 1950s and 1960s, including those hosted by Studs Terkel, Nat "King" Cole, Dinah Shore, and Ed Sullivan. Jackson appeared in the 1959 film Imitation of Life, starring Lana Turner, and sang at the 1961 presidential inauguration of John F. Kennedy. Jackson willingly lent her celebrity stature to the civil rights movement, singing at the historic 1963 March on Washington just prior to Martin Luther King Jr.'s historic "I Have a Dream" speech. Five years later, she sang Dorsey's most famous song, "Take My Hand, Precious Lord" at King's funeral.
Jackson returned to her birthplace on occasion, but only on a limited basis. "I could come back down to New Orleans for wonderful visits with my own people," she explained, "but I couldn't stay. Chicago and the North, where I was used to Negroes being more free, was where I belonged." On one of her last visits home she made an impromptu performance at the then-fledgling New Orleans Jazz & Heritage Festival in 1970. That same year, the great jazz artist Duke Ellington recorded an original composition, "Portrait of Mahalia Jackson," on his New Orleans Suite album. Jackson died on January 27, 1972, and remains a revered figure in New Orleans. She was buried in the Crescent City after a service in Chicago.