Tipitina's
Established as a neighborhood bar in 1977, Tiptina's has grown into an iconic New Orleans music venue with a recording studio, record label, and foundation supporting the local music community.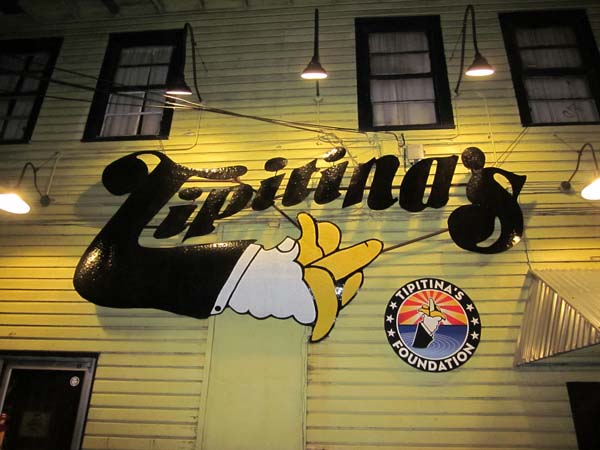 Over the course of four decades, Tipitina's has become a cultural landmark, a sanctuary of the musical bounty of New Orleans where bands and solo acts can be heard nearly every night of the year and the crowds are always eager for more. Tipitina's is a neighborhood bar in uptown New Orleans that emerged in 1977 when a building at the corner of Napoleon Avenue and Tchoupitoulas Street was turned into a moderately large-scale performance venue for the city's musicians and their fans. It is named after a classic piano tune written by Henry Roeland Byrd, better known as "Professor Longhair," who performed there until his death. Through the 1980s and 1990s, the club became a world-class performance venue for local and touring music acts, and as the twenty-first century progressed, the club has broadened its role to serve as a cultural nonprofit institution. The Tipitina's Foundation, founded in 1997, is dedicated to supporting "the irreplaceable music community and preserving the state's unique musical cultures."
Tipitina's served a pivotal role in the post-1960s revival of New Orleans R&B, rock, jazz, Cajun music, and zydeco at a time when the city's indigenous music leapt from relative regional obscurity to international acclaim. In the words of cultural historian Jason Berry, "[As] the 1970's cultural awakening opened into a full-fledged renaissance during the 1990s … Tipitina's became the spiritual hub for New Orleans [and Louisiana] music."
Neighborhood Bar Becomes a Musical Refuge
Situated a short distance from working docks, wharves, and warehouses along the New Orleans riverfront, Tipitina's occupies a site once known as the 501 Club that was frequented by longshoremen. A room behind the barroom held occasional dances, and the floor above housed several apartments. By the mid-1970s, the venue was already familiar to local musicians and music fans. Quint Davis, founding director of the New Orleans Jazz & Heritage Festival, recalled hosting concerts at the 501 Club when he was a young college graduate starting out in musical programming: "I had Roosevelt Sykes, Professor Longhair, the Zion Harmonizers, Snooks Eaglin, Tuts Washington, and Chris Kenner play there. I didn't know what I was doing. I wasn't making any money."
A group of fourteen local investors bought the club at the end of 1976 and renamed it for the song "Tipitina" by Professor Longhair, known to many as simply "Fess." The revered, if eccentric, R&B pianist became a regular at Tipitina's, and his "only in New Orleans" character and music made him a fitting figurehead for the emerging club.
A "Hippie Dance Hall," Music Mecca, and Community Catalyst
According to musician Dave Malone, whose band The Radiators played at Tipitina's frequently, the club originally resembled "a hippie dance hall." The new owners knocked down walls to open up the space and installed a vegetarian restaurant and juice bar, sometimes handing out a free banana with each paid entry fee. (A hand holding a peeled banana became the club's logo.) While its founding vision was clear—a shrine to New Orleans music and a place for bands to play and listeners to dance—Tipitina's was a precarious business undertaking. Attorney Steve Armbruster, one of the fourteen original cofounders, recalls that after the first few weeks of business, it was unclear whether the club could stay open another month, "but we had a big dance on the 29th where The Meters and Professor Longhair played, and that paid the rent for the second month."
Before long, the restaurant and juice bar closed and the focus shifted exclusively to music. From its earliest incarnation, Tipitina's presented a wide range of music, most notably local performers whose careers were then in their infancy but who later came to symbolize the spirit and unique sound of New Orleans: The Meters, The Radiators, Dr. John, and The Neville Brothers. The latter recorded there live on two consecutive nights in 1982, producing a set of recordings that captures the club's euphoric ambience. Tipitina's also nurtured another revered New Orleans musical institution, radio station WWOZ 90.7 FM, a listener-sponsored enterprise that relies on volunteers for on-air staff and focuses primarily on New Orleans-related music and culture for programming. WWOZ began broadcasting in December 1980 from studios located in the apartment units above the club. The station broadcast live music by simply dropping a microphone through a hole in the floor.
National Recognition, Potential Expansion, Lethal Competition
Tipitina's first half-dozen years created an aura that still sustains the music hall's reputation and standing across ensuing decades of financial instability, increased competition, and social change. The coming of the 1984 New Orleans World's Fair marked the waning of fortunes at Tipitina's, with potential audiences drawn to all the free entertainment available at the fair site. That summer, the original founders declared bankruptcy, and the club's doors remained shuttered for a year and a half. An ambitious young couple, Jim and Mientje Green, reopened the club 1986 with high hopes and an expanded business model.
The Greens demolished the upstairs apartments and removed the first-floor ceiling to open up a high ceiling above the dance floor and a second-floor balcony to expand audience capacity. They began booking national acts, which dramatically increased both the club's drawing power and its name recognition. They attempted several less successful gambits, including a Tipitina's record label and satellite clubs in the French Quarter and Warehouse District, along with reproductions of the original in Memphis, Tennessee, and Houston, Texas. Despite the national growth for audiences of "roots"-based music throughout the late 1980s and early 1990s, the thin profit margins and unpredictability of nightclub economics continually undermined Tipitina's financial stability.
In 1994, the opening of the House of Blues music-club franchise in the French Quarter dealt a crushing blow to Tipitina's. The Greens could not afford the national acts or the pay scale the House of Blues offered local acts. The House of Blues drew large, steady audiences of both tourists and locals to its centrally located, efficiently run entertainment complex with a full-service restaurant and gift shop. Dispirited, the Greens let it be known in 1995 that they sought new owners for the legendary club that had become an integral part of the city's musical culture.
Under New Management: New Vision and New Game Plan
In 1996, the Greens found a major investor in real-estate developer Roland Von Kurnatowski, a New Orleans native with advanced degrees in both law and business from the city's Loyola University. With no prior experience in the music industry, Von Kurnatowski spent roughly $1 million in upgrades to the club's sound and air-conditioning systems, which he saw as barriers to growth.
He founded the Tipitina's Foundation to nurture New Orleans musicians. "In my mind, we should be paying attention to those musicians who are disadvantaged and are neglected," he said. "And then, for me, it's about the kids. I think music programs and band programs should be a basic requirement of every elementary-school and high-school curriculum."
After Hurricane Katrina in 2005, the role played by the foundation took on added significance. Immediately after the storm, the foundation made hundreds of thousands of dollars in direct grants to musicians. Since then, the foundation's Music Co-op Program has provided more than 2,400 Louisiana musician and filmmaker members with supervised access to advanced technology, business development resources, and job-skills training through centers in New Orleans, Baton Rouge, Lafayette, and Shreveport.
Three other programs specifically target youth in the surrounding community. The Instruments A Comin' Program has contributed more than $2 million worth of marching band instruments to more than 4,000 students enrolled at 75 schools in the greater New Orleans metropolitan region. Tipitina's Internship Program provides tutoring in preprofessional skills by internationally recognized saxophonist Donald Harrison, Jr., to several hundred students. The Sunday Music Workshop, run on an open-house model, allows hundreds of students to be mentored by playing alongside veteran professional musicians.
By 2009, the club finally began turning enough profit to fund some Tipitina's Foundation activities. The long-term goal is to bring commercial revenue to a level that will provide the majority of foundation funding, thus fulfilling Von Kurnatowski's ultimate vision of the renowned nightspot as the "iconic cornerstone" for community-building efforts. Operations expanded from just two nights a week after Katrina to four nights a week, one of those devoted to Free Fridays, an opportunity for audiences to appreciate emerging local talent, and another to the Sunday Cajun Fais Do Do, a weekly tradition for more than twenty-five years that brings Cajun musicians to the stage and dancers to the floor.