Coastal
"The Levee Is the Problem"
Historically deprived Black communities reel from Hurricane Ida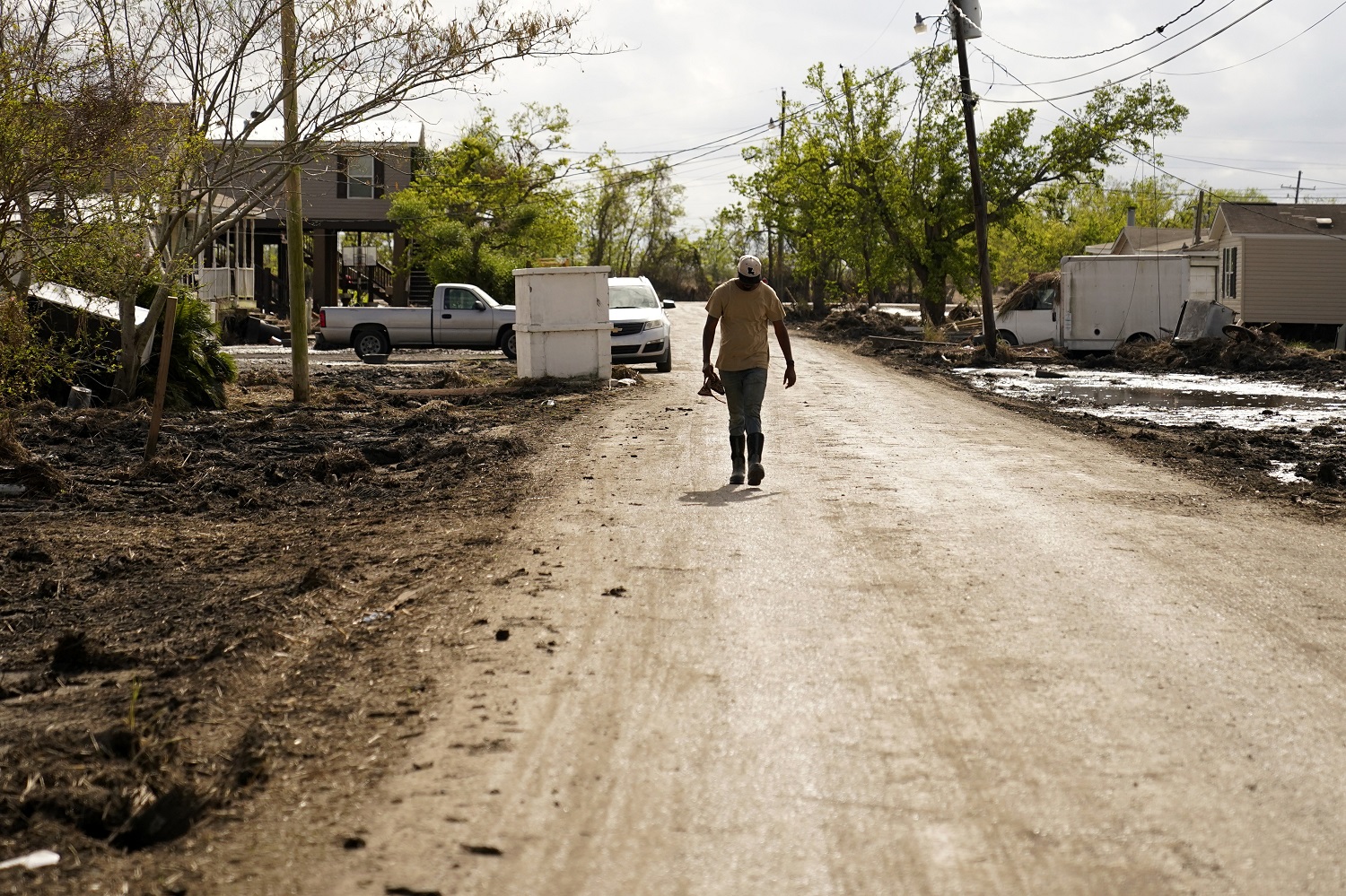 Once again, Ironton will have to fight for what it deserves, said the Rev. Haywood Johnson Jr., 74, as he visited his small church, which stood empty after being gutted down to the studs. Hurricane Ida's storm surge had overtopped the substandard levees that protect his hometown, Ironton, a historically Black hamlet on the west bank of Plaquemines Parish. Though Ida wreaked destruction across much of southern Louisiana, research consistently shows disasters disproportionately affect communities of color like Ironton, which are less likely to be protected by adequate infrastructure and are more likely to sit in more vulnerable areas, with lower elevations, because of historic patterns of segregation. In Plaquemines Parish, racial injustice was a guiding principle for much of the twentieth century, especially during the decades when arch-segregationist Leander Perez and his descendants dominated the parish government. Today, Johnson believes that the racial animus of yesterday is expressed as indifference. "We have flooded before and the water came from the same place," he said. "But no one fixed the problem."

More than 150 years ago, Johnson's ancestors moved to Ironton from the nearby St. Rosalie sugar plantation, where they'd been enslaved. His great-grandfather began pastoring St. Paul Missionary Baptist Church a century ago. Twenty-two years ago, Johnson stepped into the pulpit of the small church, which stands within the four-block town that consists of about 50 homes and about 250 people, most of them kin. For all of Johnson's life, Ironton has fought for the necessities of modern life. The parish refused to supply piped running water to the town until 1980. It took another decade to get a sanitary sewer system so that all houses could install flush toilets. Then about 10 more years to get paved roadways, street lights and natural gas lines. "We have had to fight for water and for the streets. Fight for our survival, really," Johnson said.

Across the Mississippi River, in another unincorporated Black town called Phoenix, the Rev. Tyronne Edwards, 69, of Zion Travelers Baptist Church, has carefully documented the history of Plaquemines Parish. The Phoenix native is passionate about his hometown, the land it stands on and the river that built that land. From the parish's early days until the 1980s, most East Bank churches immersed baptismal candidates in the Mississippi itself, he said.

In his 2017 book, The Forgotten People: Restoring a Missing Segment of Plaquemines Parish History, Edwards describes how Black communities like Phoenix and Ironton were largely left out of the official parish history and excluded from decision-making. Some of the early triumphs for Black Plaquemines residents concern voting. Black leaders in Plaquemines founded the Underground Right to Vote Movement and became plaintiffs in a federal lawsuit filed in 1953 by trailblazing civil rights lawyer A. P. Tureaud and decided in their favor in 1961. While voter-suppression tactics were used across Louisiana, there were more layers in Plaquemines, Edwards says. That's because, once Black voters were able to cast ballots, their votes were diluted through a Perez-instituted council of parish commissioners all elected at-large by a majority-white parish. In 1976, US District Judge Frederick Heebe found that the at-large system "operates invidiously to cancel out and minimize the voting strength of Plaquemines Parish's black minority and denies them equal access to the political process." From 1967 to 1983, while the lawsuit was in process, there were no elections for commissioners; instead, Perez and his successors handpicked them.

Today, though a few Black-majority districts ensure Black representation on the council, there are still perennial efforts to scuttle the way the council is structured, said Edwards, noting that those Black votes, along with those of allies, have been crucial to blocking yet another chronic threat, industrial pollution. Most recently, residents have been fighting a gigantic crude-oil terminal, spearheaded by a company called Tallgrass Energy LLC, that's envisioned for the area where the St. Rosalie Plantation once stood.
The parish refused to supply piped running water to the town until 1980. It took another decade to get a sanitary sewer system so that all houses could install flush toilets.
Pearl Sylve, 80, grew up playing on the land that Tallgrass wants to develop. Her father would bring her and her siblings there to play while he walked to the cemetery to visit his mother's grave, which was marked by a brick in a cemetery where other enslaved ancestors, including great-aunts and great-uncles, had also been buried, she said. Recently residents found out that, as the site was prepared, some human remains and other "artifacts" had been removed from the land. The land is torn up and inaccessible, no longer the grassy area she remembers running on as a child. "It's just not right," she said. "Those cemeteries were the closest thing we have to those who came before us. But we cannot visit those graves."
Sylve, too, is a lifelong fighter. In 1966, federal marshals accompanied her 6-year-old daughter Cassandra to Belle Chasse School, where she was the school's first Black first grader. "We've fought for everything we've gotten," she said. "People thought Ironton was just a little Black town. They didn't care about it. Nobody cared about Ironton." Now, Ida's storm surge has pushed caskets out of concrete tombs and left debris all though the town's four rectangular blocks, four shorter streets—Cazenave, Bradish, Giraud, and Johnson—bounded by two longer streets, Public and Division.
Sylve and her nine older siblings were born on Johnson Street on a lot that her parents, Elma and Elijah Wilson, bought in 1921. In recent years, her sister Betty, 88, lived in a trailer at the front of the lot while Sylve lived in a house toward the back. A daughter lived next door on one side while a niece lived on the other side and a nephew stayed down the block.  As Ida approached, she had been cooking stuffed crabs and bell pepper and all kinds of dishes, preparing for her granddaughter's baptism by Johnson, her nephew. Now the baptism has been postponed indefinitely. All the food she'd prepared had to be thrown out of her freezer. The water came with such force that it pushed her sister's mobile home into Johnson Street and shoved Sylve's house across the street, to the corner of Johnson and Public.  "My house is on somebody else's property. It's bust open, where everybody can see it," Sylve said. Still, that's not enough to keep her away. "It's my home and I'm gonna go back," Sylve said. "But the levee is the problem. We have to fight to make sure it gets fixed this time."
Katy Reckdahl is a New Orleans-based news reporter who is a frequent contributor to the Times-Picayune | New Orleans Advocate and WDSU special broadcasts. Her stories have appeared in the Atlantic, Christian Science Monitor, New York Times, National Geographic, and Next City.
This article was made possible by the BHP-funded project, Coastal Impacts: An Integrated Approach for Community Adaptation, Understanding, and Planning, which will assist local communities to build intergenerational coastal literacy through community conversations around books, film, and exhibitions, fostering greater understanding of and support for coastal restoration projects.