Jim Bowie
Although Jim Bowie is known for his role in the Battle of the Alamo, he was raised in Louisiana, where he engaged in land schemes and slave smuggling.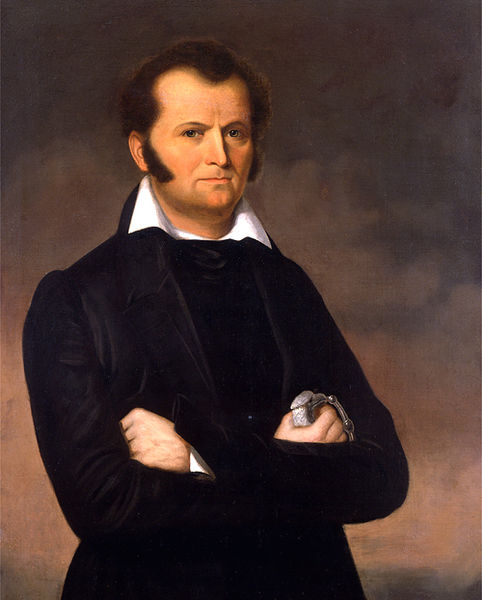 The name Jim Bowie often evokes images of a large, fierce hunting knife and a desperate battle for Texas freedom at the Alamo. Although he was branded a hero by Texas history, Bowie actually spent most of his life in Louisiana. In the Bayou State, records affirm that Bowie's aspirations were routinely pursued through forgery, bribery, perjury, and intimidation. Partnering with the pirate Jean Laffite, he ran a contraband slave-smuggling operation, and his illegal land schemes created chaos for land-hungry settlers. In this regard, Jim Bowie can be considered an extreme example of the many ambitious but unscrupulous men of his time and place.
Early Life
James "Jim" Bowie was born in the spring of 1796 (reported dates vary) in Logan County, Kentucky, to Reason Pleasant Bowie and Elve Ap-Catesby Jones Bowie. His father was of Scottish descent; his mother, Welsh. Reason, always seeking frontier opportunities, crossed the Mississippi River in 1800 and settled his family in southeastern Missouri. In 1803, while Thomas Jefferson was working out the details of the Louisiana Purchase, the elder Bowie obtained a Spanish grant of eight hundred arpents—one arpent equals approximately 192 feet—along Bushley Bayou in Catahoula Parish, about thirty miles west of Natchez, Mississippi. There, in this wilderness setting, Jim spent much of his early boyhood alongside his brothers John, Stephen, and Rezin. The family moved once again in 1809 to St. Landry Parish near Opelousas, where they farmed and raised livestock using slaves.
Until British invasion threatened New Orleans, the War of 1812 barely impacted most Louisianans, but the sudden menace resulted in a flurry of enlistments that included Bowie and his brother Rezin. However, on the very day of their enlistment into the Second Division Louisiana Militia, January 8, 1815, Gen. Andrew Jackson repelled the British near New Orleans, effectively ending the war. Disappointed with missing the action, nineteen-year-old James struck out on his own later that same year along Bayou Boeuf in Avoyelles Parish, where he purchased land and slaves on credit and began cutting virgin timber and floating it to downstream markets.
The Schemes
Bowie's adult behavior revealed an ambitious opportunist who did not permit matters of honesty and moral conduct to stand in the way of personal gain. Congress had abolished the African slave trade in 1808, but expanding agriculture in the Deep South created a greater demand for labor than could be met with domestic slaves. The result was a surge in slave runners, including the mercurial French privateer Jean Laffite. From his headquarters on the Texas coast just west of the Sabine River, Laffite sold his pirated contraband to Bowie, who devised a plan to smuggle them into the Louisiana interior. He then claimed to have captured the illegals and turned them over to authorities for a reward. As per the law, officials then sold the slaves at auction, and Bowie bought them back for resale—this time with a legal title. Dozens of slaves were involved, and Bowie accrued considerable profits during the two years he ran this scheme.
Bowie's most ambitious ploys stemmed from the chaotic state of Spanish land grants and land titles following the Louisiana Purchase. Compounding the problem, most of the Spanish records had been moved out of the country. Bowie saw an opportunity and began to personally forge Spanish land grants of prime properties in several parts of the state. He then boldly manufactured deeds of sale of the grants to himself. The scale of the ruse was astounding, as he claimed up to 80,000 acres in Louisiana and almost as much again in Arkansas. Bowie's claims were immediately suspect when he attempted to formally register them, but his conniving and political influences kept the matter alive throughout the 1820s. He was even able to sell some of the counterfeit titles and reap a profit before the scheme eventually collapsed.
The Sandbar Fight
Bowie's corrupt business practices earned him many enemies in a culture where a slight often ended in a deadly duel. One disagreement involving Rapides Parish sheriff and banker Norris Wright resulted in Wright shooting Bowie point-blank with a pistol. Poorly armed at the time, Bowie survived the deflected shot but vowed to never again be without a large knife in his belt. Accordingly, the legend of the Bowie knife was born, and the stage was set for a gruesome encounter. On September 19, 1827, on a Mississippi River sandbar near Natchez, Bowie was present at a duel between Dr. Thomas Maddox and Samuel Wells III. No one was injured when the principals exchanged shots. The affair seemed over until members of their entourages became embroiled in a melee. Alexander Crain shot Gen. Samuel Cuny. Wright shot Bowie through the lower chest. George McWhorter shot Wright in the side, causing a flesh wound. Bowie drew his famous knife and attempted to chase Wright, but was shot in the thigh by another gunman. Wright and Alfred Blanchard stabbed Bowie with sword canes. In a desperate lunge, Bowie grasped Wright by the collar and thrust his long knife into his enemy's chest, killing him instantly. The violence ended abruptly, and attending physicians rushed to treat the injured. Cuny and Wright were dead, and Bowie's recovery took months. A grand jury was convened afterward but handed down no indictments. The brawl made national news and enhanced Bowie's notoriety.
Texas
By the end of the 1820s, Bowie's land schemes were crumbling on all fronts, and there was an increasing chance he would be held legally accountable. At the same time, his sugar plantation in Lafourche Parish, where he and his brothers attempted to establish the state's first steam-powered sugar mill, was facing financial ruin. Having made several brief trips to Texas in recent years, Bowie sensed the region held new opportunities and reprieve from his longstanding troubles. In early 1831, he sold most of his remaining assets and moved to the tumultuous, Mexican-owned territory of Texas.
Bowie's history in Texas continued the drama of his early life. Once again, he became involved in land schemes and shifting politics. He married Ursula de Veramendi, from an affluent Mexican family, on April 25, 1831, only to lose her to cholera two years later. He fought both Indians and Mexican soldiers while trying to force his way into a position of wealth and prominence. His life—along with the lives of 187 other men—ended on March 6, 1836, in defending the Alamo for a new republic of Texas. In spite of his past indiscretions, most of which took place in Louisiana, Bowie lived his final hours as a hero.