Ashland-Belle Helene Plantation
Perhaps more than any other plantation house, Ashland-Belle Helene epitomizes the popular image of the grand Greek Revival southern mansion.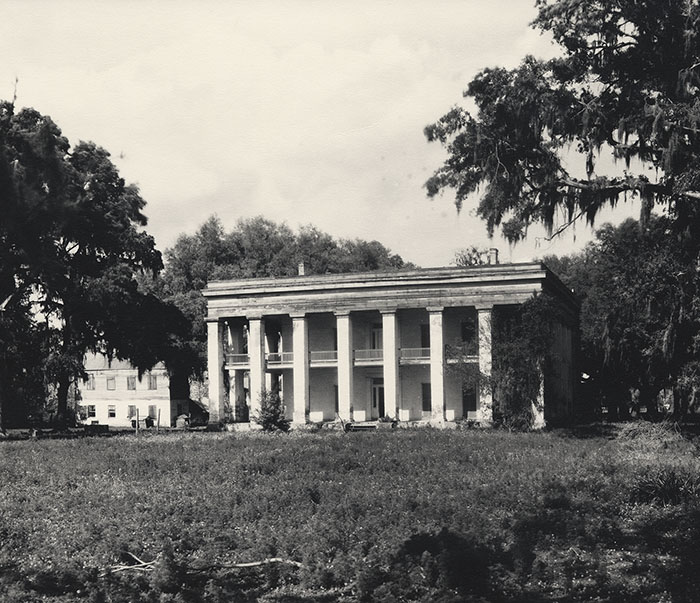 Tshland-Belle Helene was built by prominent planter and lawmaker Duncan Farrar Kenner as a gift to his wife, Anne (Nanine) Bringier, who came from one of Louisiana's most influential French families. Kenner named Ashland after the Kentucky estate of Sen. Henry Clay, whom he admired. A half-century later a subsequent owner renamed it Belle Helene in honor of his own daughter. The property is located on the east bank of the Mississippi River in Ascension Parish, just north of Darrow.
Perhaps more than any other plantation house, Ashland-Belle Helene epitomizes the popular image of the grand Greek Revival southern mansion. As a result, it has been used to reinforce that stereotype in numerous movies, including A Band of Angels (1957), The Autobiography of Miss Jane Pittman (1974), and The Long, Hot Summer (1985). Although attribution is purely speculative, four different architects have been credited for the design of Ashland: James Gallier Sr., as was incorrectly stated in early twentieth-century publications; Henry Howard, on the basis of the staircase; Charles Dakin, who was in the area when he died in 1839, the same year that Kenner married Nanine (according to Bringier family tradition, Michel Doradou Bringier, owner of L'Hermitage Plantation, gave each of his daughters a new house when they married); and (the most credible attribution) James Dakin, on the basis of the gallery's square columns and overall austere appearance. Moreover, Bringier's accounts show several payments made to James Dakin between 1839 and 1840, although their purpose is not itemized.
Simple Yet Magnificent
Kenner's Ashland is really a quite simple design: a square box surrounded by twenty-eight piers, each thirty feet high, supporting a two-story gallery and a simple but massive wooden entablature that hides the pyramid roof. Yet the effect is magnificent in size, scale, proportions, and overall clarity of the design. Exterior brick walls, scored to resemble masonry, are painted their original pastel yellow color, and the brick piers, each three feet square, are stuccoed and painted white. Shutters and gallery rails are green. A narrow, continuous row of dentils ornaments the entablature, and identical bands of dentils are repeated at ceiling height in the interior rooms. This repetition gives the building a unified appearance and dilutes the distinction between exterior and interior space; this effect is most apparent in the first-floor central hall, twelve feet wide, which feels like a boulevard between two buildings. Both floors are bisected by a central hall, with three rooms on each side; in an unusual reversal of height for a Louisiana plantation house, the first-floor rooms, at fourteen feet, are taller than those of the second story, which reach thirteen and a half feet. Two rooms on the first floor were parlors, and on the opposite side of the hall were a library and a dining room. All second-floor rooms were bedrooms, the walls of which were finished with white plaster and left unpainted. A freestanding spiral staircase is set in a large, curved alcove at the rear of the hall.
Not one of the plantation's dependency buildings survives. The 1840 census lists 117 slaves at Ashland; that number had increased to 169 in 1850. By 1860 Kenner owned a total of 473 enslaved people on three plantations, making him the eighth-largest slaveholder in the state. Recent excavations at the house, sponsored by the current owner, Shell Chemical Company, have established that the slaves lived in wooden cabins laid out in two parallel rows located between the big house and the brick sugarhouse. The cabins were placed thirty-two feet apart; they measured approximately forty feet by twenty feet, and each cabin consisted of two equal-sized rooms separated by a double brick fireplace. The two-room cabin with front gallery that currently stands to one side of Ashland was built as a prop by a film company in 1974. Foundations of Kenner's brick sugarhouse, an overseer's house, and a blacksmith shop have been unearthed. Kenner bred horses and had a course for training his racehorses on the plantation.
A Storied History
In 1862 Union troops raided Ashland in hopes of capturing Kenner, who was a prominent member of the Confederate Congress. He escaped on horseback, but troops detained his wife and three children. In early 1865 Confederate President Jefferson Davis sent Kenner to Europe as his ambassador. After the war Kenner successfully reestablished his plantation, growing both sugarcane and rice until his death in 1887. Sugar planter George B. Reuss, son of Mulberry Grove's John Reuss, purchased Ashland in 1889 and renamed it Belle Helene for his daughter. In 1911 Reuss began a subdivision and sale of the land, and from that date there was no sustained habitation of the house. Ashland-Belle Helene was added to the National Register of Historic Places in 1979. The Reuss heirs sold the house in 1992 to Shell Chemical Company, which already owned a petrochemical plant on land behind the house; the company then began the restoration of Ashland-Belle Helene. It remains private and not open to the public.
Adapted from Karen Kingsley's Buildings of Louisiana, part of the Buildings of the United States series commissioned by the Society of Architectural Historians (www.sah.org) and published by Oxford University Press.