Martin Payton
Sculptor Martin Payton is best known for his improvisational compositions made from found industrial steel parts assembled into rhythmic forms inspired by jazz music, African symbolism, and his African American heritage.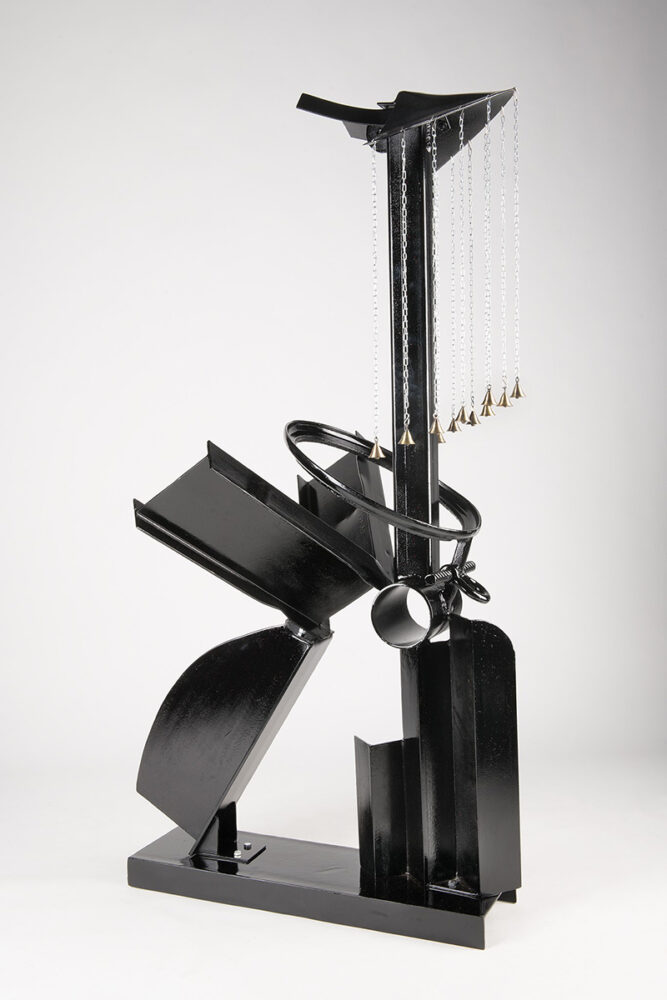 Martin Payton is a renowned sculptor based in Baton Rouge. He is best known for his improvisational compositions made from found industrial steel parts that he assembles into rhythmic forms inspired by jazz music, African symbolism, and his African American heritage. Payton is drawn to the irregularities and imperfections of the time-worn steel that he collects from scrap yards. Relying on his intuition and technical skill, he assembles the found metal parts into sculptural forms that imply or create movement. Payton often titles his sculptures after Black musicians whose songs incorporate the chants and polyrhythms of his African roots or gives them names associated with historical or cultural aspects of the African diaspora.
Education
Born in 1948, Payton grew up in New Orleans and studied at Xavier University under influential sculptor John T. Scott, who later became not only Peyton's mentor but also a colleague, collaborator, and close friend. A visit to Xavier by the Yoruba sculptor Lamidi Olonade Fakeye also proved instrumental to his artistic development. After earning his BFA in 1973, he went on to complete his MFA two years later at the Otis Art Institute in Los Angeles. There he studied under Charles White, an artist renowned for documenting the African American experience. White previously taught at Dillard University in New Orleans, where in 1941 he met and was briefly married to prominent artist Elizabeth Catlett. Payton hoped to follow in White's footsteps but later remarked that his encounters with White led him to realize the importance of establishing a personal artistic identity. Payton continued producing primarily drawings and paintings but began to experiment by breaking his paintings apart and making them three dimensional.
Teaching Career and Artistic Development
In 1976, Payton returned to New Orleans and rejoined Scott at Xavier, where he taught alongside his mentor for five years. During a trip to a scrap yard with Scott, Payton was inspired to work with steel I-beams. He took an industrial arc welding course in 1980 and that same year created his first sculpture. These early works were composed of bent and twisted I-beams with fabricated steel cutouts that served to make the minimalist steel works appear organic. These early works were colorful, but Payton soon began to paint all his work with a black patina. Choosing to leave Xavier, Payton worked as an artist-in-residence in Jefferson and Orleans Parish public schools until 1987 when he joined the faculty at Florida A&M University in Tallahassee.
Payton returned to Louisiana in 1990, this time to take up the position at Southern University in Baton Rouge left vacant by the untimely death of sculptor Frank Hayden, best known for his public commissions in the Greater Baton Rouge area. Payton taught at Southern for twenty years yet maintained his residency in New Orleans until after Hurricane Katrina in 2005, when he moved to Baton Rouge. During that time Payton's studio practice shifted towards an increasingly improvisational method. By the mid-1990s, he stopped fabricating his sculptures altogether and chose instead to present his found material in its raw state. No longer transformed nor altered, the scrap metal's form, worn condition, and natural oxidation are allowed to show, reinforcing poignant connections to Black history, culture, and music. He retired from Southern University in 2011.
Payton's work has been exhibited extensively throughout his career and is held in the permanent collections of the New Orleans Museum of Art, Ogden Museum of Southern Art, Amistad Research Center at Tulane University, William King Regional Arts Center in Virginia, and Rosekrans Runnymede Sculpture Garden in California. Most notable among his public commissions is a collaboration with John T. Scott titled Spirit House that was installed in 2002 in New Orleans's Gentilly neighborhood. Martin Payton currently lives and works in Baton Rouge.