Pete Fountain
Jazz clarinetist Pete Fountain was one of the New Orleans's most recognizable and commercially successful artists.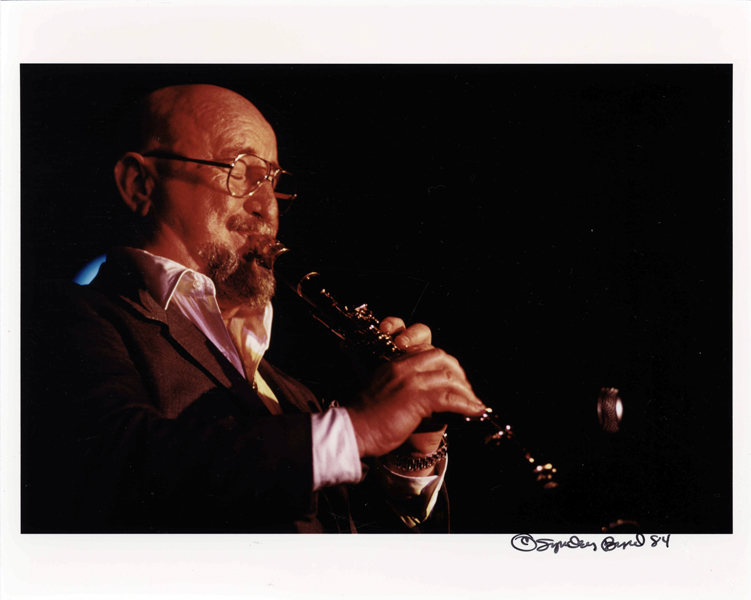 Jazz clarinetist Pete Fountain was one of the New Orleans's most recognizable and commercially successful artists. After achieving local fame with various dixie swing bands, Fountain gained national notoriety in 1957 when he became a featured performer on The Lawrence Welk Show. In addition, he appeared fifty-eight times on The Tonight Show, performed at the White House for four different presidents, and played for Pope John Paul II during a papal mass in 1987. Throughout his career, Fountain remained devoted to his hometown of New Orleans, performing at his local jazz clubs for more than forty years. He was one of the city's most beloved musical ambassadors.
Early Life
Pierre Dewey LaFontaine, Jr., was born on July 3, 1930, in New Orleans, the son of Pierre Dewey "Red" LaFontaine, a delivery truck driver. As a young boy, he loved to stand outside and listen to the music coming from the Top Hat Dance Hall on Broad Street, around the corner from his Mid-City home. While his friends were anxious to get to The Arcade Theater for the afternoon matinee, Fountain was captivated by the jazz sounds playing inside the club. He would linger out front, tapping his foot against the fence, and imagine the jazz artists inside. At the age of nine, a doctor suggested that the boy play a musical instrument in order to strengthen his weak lungs. Fountain chose the clarinet. In music school, he was impatient with classical teaching, preferring to imitate his musical idols: the technical dexterity of Benny Goodman and the fat, mellow sound of Irving Fazola. He listened to their records for hours in his bedroom, gradually developing his own unique style. What began as doctor's orders became a musical obsession. By the time Fountain was in high school, he was playing at jazz assemblies and football games and gaining local renown as a talented musician.
Apprenticeship on Bourbon Street
For a young jazz musician in the 1940s, there was no better classroom than the jazz clubs of the French Quarter. As a teenager, Fountain went to Bourbon Street often. On any given night, he could stand outside clubs like The Famous Door and listen to jazz greats such as Louis Armstrong, Jack Teagarden, or George Lewis. In 1946, his band, The Jr. Dixie Band, was given the chance to play a regular set on Sunday afternoons at The Parisian Room. Playing at this Royal Street club, shoulder to shoulder with jazz stars, young Fountain received an invaluable apprenticeship. By the age of eighteen, he was playing regularly with Phil Zito's International Dixieland Band at the El Morocco club. His youthful obsession gradually transformed into a full-time profession. At the El Morocco he met Beverly Lang, whom he later married on October 27, 1951.
In the early fifties, Dixieland music fell out of fashion as audiences began to prefer bebop and rock and roll. Fountain began to refer to his talented band, The Basin Street Six, as "the greatest unemployed band in history." His next group, The Dukes of Dixieland, had some success, but eventually Fountain quit the music business for financial reasons. The conventional workplace was not a good fit for Fountain, who worked briefly as an exterminator. Finally, his fellow Bourbon Street musician Al Hirt offered him a chance to return to music and form a new band. Soon they were playing regularly and Fountain's musical career revived.
A Call from Lawrence Welk
In November 1956, Fountain got an unexpected call from Lawrence Welk. It seemed that Welk's son was a Pete Fountain fan and had encouraged his father to add the clarinetist to the television show. Fountain flew to California and was an overnight hit. Eventually, he moved his wife and three children to California. Even though Fountain gained national fame on The Lawrence Welk Show, it was ultimately a bad fit. He wasn't able to play enough of the jazz that he loved, and he never felt comfortable performing on camera. In addition, Welk's strict personality and rigid band rules did not fit with Fountain's relaxed and informal New Orleans demeanor. The breaking point came during a Christmas program, when Fountain performed "Silver Bells" in an improvised jazz style without Welk's permission. Soon after, Fountain left the show and returned with his family to New Orleans. Even though their personalities clashed, Fountain credits Welk with giving him a national audience and teaching him the discipline that he used to run his successful New Orleans jazz clubs.
Back on Bourbon Street
Fountain returned to New Orleans in 1959, only to realize that he had become a national celebrity. His shows became a popular tourist attraction and he played for sold-out crowds nightly. When October 23, 1959, was declared Pete Fountain Day in New Orleans, he knew he had arrived. He opened Pete Fountain's French Quarter Inn at 800 Bourbon Street in spring 1960. The club was a success, and he opened a new club at 231 Bourbon Street in 1969. A few years later, he moved across Canal Street to open Pete Fountain's Jazz Club at the Riverside Hilton, where he performed for the next thirty years.
Since 1961, Fountain has been a fixture in the annual New Orleans Mardi Gras celebration. Every year, his Half-Fast Walking Club strolls from the Commander's Palace restaurant, down St. Charles Avenue, and through the French Quarter, ending with a luncheon at the Riverside Hilton. Over the years, celebrities joined Fountain, who in later years rode the route in a decorated streetcar, playing his clarinet all the way.
Like many other New Orleans residents, Fountain and his wife lost their home in Bay St. Louis, Mississippi, and many of their belongings during Hurricane Katrina. Fortunately, one of Fountain's most precious possessions was saved. "I still have my clarinet," he said, "so I can still toot." In 2006, he suffered another setback when he underwent heart bypass surgery. Like his beloved hometown, Fountain refused to give in to adversity. He returned to music in spring 2006, performing at the New Orleans Jazz & Heritage Festival. That same year, he was awarded an honorary degree from Loyola University. On March 17, 2007, he was inducted into the Louisiana Music Hall of Fame.
Fountain passed away from heart failure on August 6, 2016, in his home city of New Orleans, at the age of 86 years old.